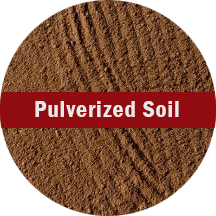 It is becoming that time of year when everyone in Dixon is taking the time to refresh and re-do their yards and alter their landscape designs. When it comes to your landscape, finding the contractor with the highest quality pulverized topsoil near Dixon may seem impossible, but in reality, the experts at Slabaugh Services have precisely what you need to complete any project. Whether you are working on a small home project you are completing yourself or you are working on a city-wide beautification project, Slabaugh Services has the most reliable pulverized topsoil supply in the Dixon area.
Dixon Pulverized Topsoil Supply
The city of Dixon is a thriving community located in Lee County and is home to just over 15,000 residents. Dixon is situated along the scenic banks of the Rock River and happens to be a hub of four major highways and one interstate entryway making travel to and from wildly accessible. Searching through the Dixon area to locate a contractor that provides high-quality pulverized topsoil and exceptional customer service may seem like trying to find a needle in a haystack. In actuality, Slabaugh Services is the contractor near Dixon that can offer clients precisely year-round.
Dixon Pulverized Topsoil
Are you trying to decide on the materials for your landscaping design? The knowledgeable team at Slabaugh Services offers a wide variety of options, including pulverized topsoil, and is able to help you narrow down the exact materials that you will need for your project in Dixon. Slabaugh Services also possesses top-notch pulverized topsoil supply that no other nearby Dixon can offer homeowners, landscapers, contractors, and even city or state planners. When you choose pulverized topsoil from Slabaugh Services, you will avoid clumpy, condensed soil making it difficult to position correctly. Call Slabaugh Services for your pulverized topsoil supply quote for your upcoming project in Dixon today.
Dixon Pulverized Topsoil | Dixon Pulverized Topsoil Supply