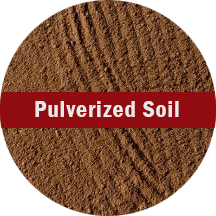 Are you looking for an easy way to spread topsoil? If so, our pulverized topsoil supply may be the perfect option for your home, commercial, or state-funded project. Slabaugh Services offers IDOT certified topsoil and pulverized topsoil, which meets state requirements. Since 1998 we have specialized in offering a variety of different topsoil blends for the Loves Park area.
Loves Park Pulverized Topsoil Supply
Slabaugh Services delivers quality pulverized topsoil, which is accurately weighed and sold at a competitive rate. Loves Park is a thriving community in northern Illinois with 23,996 residents and has a motto that reads, "The City with a Heart." Our priority is to provide the best products that meet our Loves Park customer needs. We have a reputation for satisfaction with our service and pulverized topsoil supply.
Loves Park Pulverized Topsoil
Slabaugh Services provides optimal workability with the best quality pulverized topsoil supply. We support local businesses, and when possible, we use area resources for pulverized topsoil. Get the professional service you can count on and timely delivery of products. To learn more or to request a FREE estimate, contact our Slabaugh Services team today!
Loves Park Pulverized Topsoil | Loves Park Pulverized Topsoil Supply